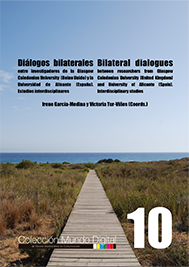 CMD10 | Diálogos bilaterales entre investigadores de la Glasgow Caledonian University (Reino Unido) y la Universidad de Alicante (España). Estudios interdisciplinares
Resumen
En el marco de colaboración entre la Glasgow Caledonian University (Escocia, Reino Unido) y la Universidad de Alicante (España) y con el objetivo de dar a conocer la producción investigadora de docentes e investigadores involucrados en el convenio de colaboración entre ambas universidades, publicamos este libro como medio de difusión científica para visibilizar, compendiar y compartir las investigaciones. El valor fundamental de la obra es el carácter internacional y multidisciplinar de las investigaciones en el área de ciencias sociales y económicas, enfocadas en temáticas tan diversas como el marketing, la economía, la comunicación o la moda, entre otras.
Prólogo/ Preface
Gloria Jiménez-Marín
Customer engagement on social media. A literature review
El compromiso del cliente en las redes sociales: Una revisión de la literatura
Nilay Balkan
Developing resource efficiency through online training. The case of a small hospitality business in Scotland
Desarrollo de la eficiencia de los recursos a través de la formación online: el caso de un pequeño negocio hostelero en Escocia
Daniel Baxter y Claire Bereziat
Campañas eficaces de Comunicación Interna
Internal Communications campaigns
Alexandra Belcea y Susana Miquel-Segarra
Arte y propaganda en el Barroco sevillano. La construcción de la marca de la Iglesia católica
Art and propaganda in the Sevillian Baroque: The construction of the Catholic Church's brand
Elena Bellido-Pérez, Gloria Jiménez-Marín e Irene García-Medina
The shift of the marketing paradigm and its implications for brand-consumer communication
El cambio del paradigma del marketing y sus implicaciones para la comunicación marca-consumidor
Zuzanna Cejmer
The economic growth in agglomerations and urbanization economies
El crecimiento económico en las aglomeraciones y economías de urbanización
Enrique Claver-Cortés, Bartolomé Marco-Lajara, Pedro Seva-Larrosa y Andrés Castaño-Poved
Evaluación de modelos de negocio asistida por computador
Computer-aided business model evaluation
Evaristo Colomina-Climent y Leonardo Yáñez-Muñoz
ICTs, disruptive forces and the production paradox in tourism. Present and future issues in the Visitor Attraction sector
TIC, fuerzas disruptivas y la paradoja de producción en turismo: Temas presentes y futuros en el sector de atracción
Giancarlo Fedeli
El análisis textual del film: definiciones y procedimientos
Textual analysis of films: definitions and procedures
Vicente García-Escrivá
Hotel industry and tourist districts in Spanish Mediterranean coastline
Industria hotelera y distritos turísticos en la costa mediterránea de España
Bartolomé Marco-Lajara, Patrocinio del Carmen Zaragoza-Sáez, Enrique Claver-Cortés, Mercedes Úbeda-García y Francisco García-Lillo
Questioning Theories of Regulation
Teorías de cuestionamiento del Reglamento
Emma McGeough
Mindfulness based living. An exploratory study with health care staff
Vida basada en el Mindfulness: estudio exploratorio con el personal sanitario
Ian Rigg y Julie McColl
Creatividad publicitaria: marcas vs prosumer amateur. La viralidad del spot de Eugen Merher para Adidas
Advertising creativity: brands vs prosumer amateur. The virality of Eugen Merher´s spot for Adidas
Jesús Segarra-Saavedra y Victoria Tur-Viñes
El cambio climático y las políticas públicas medioambientales en España. La cooperación con Iberoamérica
Climate change and public environmental policies in Spain. Cooperation with Ibero-America
Rosa-María Torregrosa-Román
Palabras clave
Ciencias sociales, Investigación, Comunicación, Marketing, Economía
DOI:
https://doi.org/10.14198/MEDCOM/2017/10_cmd
Copyright (c) Revista Mediterránea de Comunicación / Mediterranean Journal of Communication

Este obra está bajo una
licencia de Creative Commons Reconocimiento-NoComercial-CompartirIgual 4.0 Internacional
.