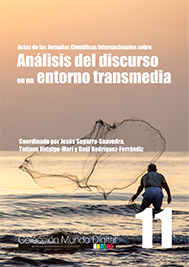 CMD 11 | Actas de las Jornadas Científicas Internacionales sobre Análisis del discurso en un entorno transmedia
Resumen
Gracias el patrocinio de la Conselleria de Educació, Investigació, Cultura i Esport de la Generalitat Valenciana y la Facultad de Ciencias Económicas de la Universidad de Alicante, así como el auspicio de la Asociación Española de Investigación de la Comunicación (AE-IC) el pasado mes de octubre de 2017 (días 16 y 17) se desarrollaron las Jornadas Científicas Internacionales "Análisis del discurso en un entorno transmedia: propuestas de investigación y de docencia" (Transmedianálisis).
Fruto de este encuentro internacional nace este ebook que recoge las actas de los textos presentados y que han superado un proceso cientifífico de revisión doble ciego.
Prólogo
Preface
Raúl Rodríguez-Ferrándiz
I. FICCIÓN / FICTION
Mujeres en la Historia: (in)visibilización crossmedia en El Mi(ni)sterio del Tiempo
Women in History: crossmedia (in)visibilization in The Ministry(mystery) of Time
Laura Castillo-Mateu y Alessandra Farné
Transmediality in Digital Hollywood: The Case of Superhero Films
Transmedialidad en el Hollywood digital: el caso del cine de superhéroes
Vicente García-Escrivá
Ghost in the Shell, más de dos décadas de expansión transmedia
Ghost in the Shell, more than two decades of transmedia expansion
Francisco-Julián Martínez-Cano
Fuerza y superpoderes de los lectores en universos transmedia comerciales: libros y cómics en The Avengers y Star Wars
Reader's Force and Superpowers in commercial transmedia universes: books and comics in The Avengers and Star Wars
José Rovira-Collado y Eduard Baile-López
II. DOCENCIA / TEACHING
Narrativas transmedia en la enseñanza de la comunicación organizacional
Transmedia Narratives in Teaching Organizational Communication
Luis-Ernesto Farinango
Innovación docente en la UTPL: Hacer y aprender, periodismo de cinco sentidos
Teaching innovation in the UTPL: Making and learning, five-way journalism
María Punin-Larrea, Diana Rivera-Rogel y Carlos Ortíz-León
III. PERIODISMO Y COMUNICACIÓN POLÍTICA / JOURNALISM AND POLITICAL COMMUNICATION
Twitter como espacio alternativo a la esfera política institucional. Análisis retórico de las estrategias discursivas de Podemos durante la moción de censura contra Rajoy
Twitter as an alternative space to the institutional political sphere. Rhetorical analysis of the discursive strategies of Podemos during the motion of censure against Rajoy
Enrique Arroyas-Langa, Helena Martínez-Martínez y Celia Berná-Sicilia
Gestión de los canales de participación en las páginas web oficiales de los partidos políticos en España
Management of participative channels on the official web pages of political parties in Spain
Lara Lozano-Aguiar y Berta García-Orosa
Los informativos del canal autonómico CMMedia en Redes Sociales
The news of the autonomic channel CMMedia in Social Networks
Javier Pérez-Sánchez
IV. PUBLICIDAD / ADVERTISING
Tendencias publicitarias y convergencia mediática: análisis de las campañas premiadas en los festivales publicitarios
Advertising trends and media convergence: analysis of campaigns awarded at advertising festivals
Araceli Castelló-Martínez
La comunicación del cáncer de mama en un entorno transmedia. Rethink Breast Cancer presenta Your Man Reminder
Communicating breast cancer in a transmedia environment. Rethink Breast Cancer presents Your Man Reminder
Diana Ramahi-García, Oswaldo García-Crespo y Alberto Dafonte-Gómez
Palabras clave
Transmedia; narrativas transmedia; universo transmedia
DOI:
https://doi.org/10.14198/MEDCOM/2017/11_cmd
Copyright (c) 2018 Revista Mediterránea de Comunicación / Mediterranean Journal of Communication

Este obra está bajo una
licencia de Creative Commons Reconocimiento-NoComercial-CompartirIgual 4.0 Internacional
.