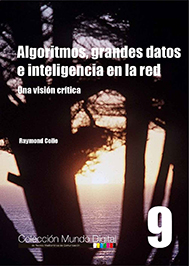 CMD9 | Algoritmos, grandes datos e inteligencia en la red. Una visión crítica
Resumen
Los datos recopilados en internet por las empresas se acumulan en grandes bases de datos que son analizadas mediante algoritmos y aplicaciones de inteligencia artificial por diversas empresas para "ofrecernos mejores servicios" pero también para beneficiarse comercialmente. Se analiza aquí cómo operan, en que nos afecta y como podemos responder a este creciente poder. Y terminamos preguntando si internet podrá volverse también "inteligente".
Palabras clave
Algoritmos; big data; inteligencia artificial; internet
Referencias
Alba, D. (2016): Repeat After Me: Humans Run the Internet, Not Algorithms, Wired, 2/09/2016, http://www.wired.com/2016/09/facebook-trending-humans-versus-algorithms/
Asigra: What is Big Data (infografía) https://cblconsultics.files.wordpress.com/2015/02/big-data-infografia.jpg
BBC: "15 key moments in the story of artificial intelligence", http://www.bbc.co.uk/timelines/zq376fr
Biewald, L.: How machine learning will affect your business, ComputerWorld, 20/10/2015, https://goo.gl/Z7NrY0
Cadwalladr, C. (2016): Google, democracy and the truth about internet search, The Guardian, 4/12/2016. https://goo.gl/WAejrC
Camarer-Cano, L. (2015): Comunidades tecnosociales. Evolución de la comunicación analógica hacia la interacción analógicodigital, Revista Mediterránea de Comunicación, vol.6(1), 187-195.
Catlin, J.: Text Analytics: The Next Generation of Big Data, Inside Big data, 5/06/2015, https://goo.gl/6d5hFt
Colle, R. (2015): Secuestradores y secuestrados: Nuestros datos en internet, auto-edición, en ISSUU. https://goo.gl/VXEt5w
Colle, R. (2014): Internet ayer, hoy y mañana, auto-edición, en ISSUU: https://goo.gl/wiSLbm
Colle, R. (2013): Prensa y Big Data: El desafío de la acumulación y análisis de datos, Revista Mediterránea de Comunicación, 4(1).
Colle, R. (2002): Explotar la información noticiosa - "Data Mining" en el Periodismo, Depto de Biblioteconomía y Documentación, Universidad Complutense de Madrid, 2002. Disponible en ISSUU.
Collins, H.: Experts artificiels - Machines intelligentes et savoir social, Paris, Seuil, 1992.
Cooper, J. (2016): The Seventh Sense: Power, Fortune, and Survival in the Age of Networks, Boston, Little, Brown & Co.
De Maeyer, J. (2016): Objectivity revisited, Nieman lab, 20/12/2016. http://www.niemanlab.org/2015/12/objectivity-revisited/
Diakopoulos, N. & Friedler, S. (2016): How to Hold Algorithms Accountable, MIT Technology Review, 17/11/2016) https://www.technologyreview.com/s/602933/how-to-hold-algorithms-accountable/
Fauscette, M. (2014): Transforming Data Into Action, http:// www.mfauscette.com/.../transforming-data-into-action-part-one.html
Freedman, D. (1995): Los hacedores de cerebros, Santiago de Chile, A.Bello.
Hammond, K. (2015): Why artificial intelligence is succeeding: Then and now, ComputerWorld, 14/09/2015.
Greenslade, R. (2016): Why Facebook is public enemy number one for newspapers and journalism, The Guardian, 20/09/2016. https://goo.gl/dASWJz
Jiménez de Luís, A. (2014): Internet nos ha convertido en la generación transparente, El Mundo.es, http://www.elmundo.es/tecnologia/2014/11/20/546dfb
Kahneman, D. (2012): Pensar rápido, pensar despacio, Barcelona, Debate.
Knight, W.: Watsoncito, Watsoncito, ¿hacia dónde debe IBM redirigir su negocio?, MIT Tecnology Review, 7/11/2014.
Kurzweil, R. (2012): La singularidad está cerca, Lola Books (Original: The Singularity is Near, Viking Press, 2005)
Lee, R. (2014): Privacy, big data and analytics: A perfect storm, IBM Big Data & Analytics Hub, 6/06/2014, descargado el 18/06/2014 de http://www.ibmbigdatahub.com/blog/privacy-big-data-and-analytics-perfect-storm
López-Cantos, F.: La investigación en comunicación con metodología BigData, Revista Latina de Comunicación Social, 70, pp.878 a 890. http://revistalatinacs.org/070/paper/1076/46es.html
Mann, S., & Niedzviecki, H. (2001): Cyborg: Digital Destiny and Human Possibility in the Age of the Wearable Computer, Toronto, Doubleday Canada.
Rainie, L. & Wellman, B. (2012): Networked: The New Social Operating System, MIT Press, Cambridge (MA).
Rheingold, H. (2004): Multitudes inteligentes, Barcelona, Gedisa.
Rodríguez, A.: El Big Data ya no es solo cosa de los grandes, http://hipertextual.com/2015/11/startups-big-data Hipertextual, 20/11/2015.
Pastor, J.: La Skynet benévola: los ordenadores "conscientes" están cada vez más cerca, Xataka, 9/12/2014.
Penalva, J.: Este es uno de los nuevos exámenes que tendrán que aprobar las máquinas avanzadas, Xataka, 11/03/2015.
Penrose, R. (2007): Las sombras de la mente, Barcelona, Critica, 2007.
Pratt, I. (1994): Artificial Intelligence, Londres, Macmillan.
Sadowski, J. (2016): Companies are making money from our personal data – but at what cost?, The Guardian, 31/08/2016. https://goo.gl/dnbAMF
Sánchez-Migallón, S. (2015): El gran debate sobre si será posible o no una inteligencia artificial, Xataka, 18/08/2015.
Schank, R. (1986): El ordenador inteligente, Barcelona, A.Bosch.
Searle, J. (1985): Mentes, cerebros y ciencia, Madrid, Cátedra.
Simonite, T. (2014): Demis Hassabis, Founder of DeepMind Technologies and Artificial-Intelligence Wunderkind at Google, Wants Machines to Think Like Us, MIT Technology Review, 3/12/2014.
Schmidt, E. y Cohen, J. (2014): El futuro digital, Madrid, Anaya.
Sey, A. & Castells, M. (2004): From Media Politics to Networked Politics: The Internet and the Political Process, en Castells, M. (ed.): The network society: A cross-cultural perspective, Cheltenham, Reino Unido; Northampton, MA: EdwardElgar Pub.
Stucke, M.E. & Ezrachi, A. (2016): The Subtle Ways Your Digital Assistant Might Manipulate You, Wired, 29/11/2016. https://www.wired.com/2016/11/subtle-ways-digital-assistant-might-manipulate/
Tierney, J. (2014): Customer Data Privacy has Become an Everyman Problem, Loyalty36org, 14/03/2014, http://loyalty36.org/resources/article/customer-data-privacy-has-become-an-everyman-problem
Trejo, R. (2003): La Internet como bien público, Revista Diálogos de la Comunicación, Nº. 67, pp.29-40. http://dialogosfelafacs.net/wp-content/uploads/2012/01/67-revista-dialogos-la-internet-como-bien-publico.pdf
UIT (2014b): Informe sobre Medición de la Sociedad de la Información 2014 - Resumen Ejecutivo, Ginebra, UIT, https://goo.gl/kO4Ggq
Westfal, Ch. & Blaxton, T.: Data mining solutions, New York, Wiley, 1998.
Wright, R. (2006): Nadie pierde, La teoría de juegos y la lógica del destino humano, Barcelona, Tusquets.
Zamorano, E.: Conoce las lisérgicas imágenes que crea una inteligencia artificial tratando de reconocer fotos, FayerWayer, 19/06/2015.
Zanoni, L. (2014): Futuro inteligente, Autoedición, descargado el 13/01/2015 de http://www.futurointeligente.com.ar/ (Disponible en varios formatos)
DOI:
https://doi.org/10.14198/MEDCOM/2017/9_cmd
Copyright (c) 2018 Raymond Colle

Este obra está bajo una
licencia de Creative Commons Reconocimiento-CompartirIgual 4.0 Internacional
.