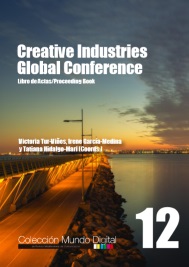 Creative Industries Global Conference. Libro de actas
Presentación del libro de Actas de Creative Industries Global Conference
Esta obra compendia 33 textos presentados en Creative Industries Global Conference, evento científico celebrado en la Universidad de Alicante –UA- (España), los días 30 de noviembre y 1 de diciembre de 2017. Todos han superado un riguroso proceso de revisión doble ciego.
Participaron 105 autores (35 extranjeros, 33%; 1 de cada 3 participantes; Países: Reino Unido (Glasgow: 8); Brasil: 4; Chile: 1; Colombia: 2 y Portugal. Se recepcionaron 65 ponencias (58 ponencias defendidas presencialmente y 7 en vídeo); 37 profesores de reconocido prestigio, de la UA y de otras universidades, han colaborado activamente en la revisión de los textos y en la moderación de las mesas dentro de los comités científico y de organización.
La definición del concepto de IICC sigue en construcción y existen posiciones contrapuestas sobre los sectores que se pueden considerar como IICC.
Las Industrias Creativas (IICC) son aquellas que tienen su origen en la creatividad, las habilidades y el talento individuales, y que tienen un potencial para la creación de riqueza y puestos de trabajo mediante la generación y explotación de la propiedad intelectual (The Department for Digital, Culture, Media & Sport, UK-DCMS, 2001). Naciones Unidas considera que también son ciclos de creación, producción y distribución de bienes y servicios que utilizan creatividad y capital intelectual como inputs primarios; constituyen un conjunto de actividades basadas en el conocimiento, centrado pero no limitado a las artes, que genera potencialmente ingresos del comercio y los derechos de propiedad intelectual; comprenden productos tangibles y servicios intangibles intelectuales o artísticos con contenido creativo, valor económico y objetivos de mercado; son un cruce entre los sectores artesanos, culturales, de servicios e industriales y constituyen un nuevo ámbito de crecimiento económico (en algunos países se ha denominado economía naranja).
Los sectores que se consideran de forma generalizada son: moda; los juguetes; artes gráficas; el software videojuegos; publicidad diseño; fotografía; cine, video, música, radio, televisión, artes escénicas, artes visuales, literatura artesanía y actividades relacionadas con el patrimonio la arquitectura la ingeniería y el comercio de bienes creativos.
Las ICC crean 29,5 millones de puestos de trabajo; generan 2,25 billones de US$ de ingresos y contribuyen de manera significativa al empleo de jóvenes y de quienes cursan carreras relacionadas con estas áreas. Existen evidencias de que la producción cultural generada por las IICC es joven, integradora y emprendedora.
Todo ello motivó un encuentro enriquecedor destacado por la calidad de las contribuciones.
Victoria Tur-Viñes
Presidenta
Presentación del libro de actas de CIGC
Presentation of the CIGC summary book
Victoria Tur-Viñes (presidenta de las jornadas)
Advertising and marketing using senses: empirical analysis
Publicidad y marketing utilizando los sentidos: análisis empírico
Joan-Francesc Fondevila-Gascón, Joaquín Marqués-Pascual y Josep Rom-Rodríguez
Ciudad y Comunicación: Publicidad Exterior Sostenible y Pantallas Digitales Urbanas
City and Communication: Sustainable Outdoors Advertising and Urban Screens
Jennifer García-Carrizo
Las agencias de publicidad locales, oportunidades y desafíos ante el cambio de paradigma en la industria creativa
Local advertising agencies, opportunities and challenges to the paradigm shift in the creative industry
Carmen Marta-Lazo e Isabel Iniesta-Alemán
Lost in The Supermarket? The evolving role of popular music and popular music products in the Immersive Economy
Lost in The Supermarket? El papel en evolución de la música popular y los productos de música popular en la economía inmersiva
Holly Tessler
La estrategia de branding creativo como ejemplo de perdurabilidad de la marca: El caso de Tiffany&Co
The creative branding strategy as an example of durability of the brand: The case of Tiffany & Co
Tatiana Hidalgo-Marí y Jesús Segarra-Saavedra
Power, legitimacy and urgency amongst stakeholders: Setting strategy amongst mainland Scotland's, rural, independent museums
Poder, legitimidad y urgencia entre los grupos de interés. Estrategias en los museos continentales escoceses, rurales e independientes
Keith Halcro
Caracterización de tres museos científicos en España: Museo Nacional de Ciencias Naturales, Museo Nacional de Ciencia y Tecnología y Museo Casa de la Ciencia
Characterization of three scientific museums in Spain: Museo Nacional de Ciencias Naturales, Museo Nacional de Ciencia y Tecnología y Museo Casa de la Ciencia
Ana Bellón-Rodríguez y José Sixto-García
La Economía Creativa. Un reto para la Innovación en los Centros Históricos
The Creative Economy. A challenge for the Innovation in the Historic Centres
Virginia Payá-Pérez
The influence of cultural events organized by hotels in the selection of the establishment
La influencia de eventos culturales organizados por hoteles en la selección del establecimiento
Pedro Álvaro Pereira-Correia y Bruno Duarte Abreu-Freitas
Wattpad: una nueva forma de escribir libros en el siglo XXI
Wattpad: a new way do write book in the 21th century
Patricia Margarida Farias-Coelho, Marcos Rogério Martins-Costa, y Rodrigo Otávio Dos-Santos
La cuarta hélice de las industrias creativas. El sector de los videojuegos en Málaga como caso de estudio
The fourth helix of creative industries. The video game industry in Malaga as a case study
Antonio Castro-Higueras
Retail, diseño y comunicación en el punto de venta
Retail, design and communication in point of sale
Gloria Jiménez-Marín, Elena Bellido-Pérez e Irene García-Medina
Las Industrias Creativas como factor de colaboración internacional entre miembros de una comunidad científica. Presentación de caso
The Creative Industries as a factor of international collaboration among members of a scientific community. Case presentation
Zahaira Fabiola González-Romo
The Balanced Scorecard and the Footwear Sector
El Cuadro de Mando Integral y el sector del calzado
Enrique Claver-Cortés, Carlos Suárez-Gargallo y Patrocinio Zaragoza-Sáez
Las perspectivas de la economía creativa para arreglos institucionales del cine: un estudio de caso brasil x portugal
The perspectives of the creative economy for institutional arrangements of the film: a case study brazil x Portugal
Renata-Faria dos-Santos, Leandro-José Luz-Riodades deMendonça y Paulo-Manuel da-Cunha
The concept of musical cities and the development of the local creative economy
El concepto de ciudades musicales y el desarollo de la economía creativa local
Luiza Bittencourt y Daniel Domingues
Estrategias creativas de la comunicación del siglo XXI. La "buena" creatividad adaptada a los nuevos medios
Creative strategies of XXI century communication. The "good" creativity adapted to new media
Teresa Gema Martín-Casado
Vuelta al origen: Prácticas creativas contemporáneas entre lo analógico y lo digital
Back to basics: Contemporary creative practice between analog and digital
Francisco Julián Martínez-Cano, Rocío Cifuentes-Albeza y Lucy Leake
Industrias culturales y creativas en Colombia. Una experiencia desde los restaurantes temáticos en la ciudad de Medellín
Cultural and creative industries in Colombia. An experience from the themed restaurants in the city of Medellín
Omar Muñoz-Sanchez, Claudia- Inés Velez-Ochoa y Melissa Cardona-Sánchez
Characters' portrayal in the television ads consumed by 5-8 yearold children in Spain
Representación de los personajes en los spots televisivos consumidos por niños de 5 a 8 años en España
Lluís Mas, Maddalena Fedele y Olatz Larrea
¿Dónde se localizan las industrias creativas?
Where are the creative industries located?
Enrique Claver-Cortés, Bartolomé Marco-Lajara y Pedro SevaLarrosa
Los géneros de la música de género en "streaming": un estudio sobre identidad sexual y subcultura músical
The genre of gender music in "streaming": a study about sexual identity and musical subculture
Antonio-Francisco Alaminos-Fernández y Paloma AlaminosFernández
Relación de las ciencias del comportamiento con el neuromarketing: los canales perceptuales como pieza clave para el desarrollo de una comunicación óptima
Relationship between the behavioral sciences and neuromarketing: the perceptual channels as the key to the development of optimal communication
Anggie-Catherine Valencia
Campañas publicitarias exitosas y tendencias publicitarias: una relación simbiótica
Successful advertising campaigns and advertising trends: a symbiotic relationship
Araceli Castelló-Martínez
Indaloymedia como estudio de caso de producción publicitaria y audiovisual
Indaloymedia as a case study of advertising and audiovisual production
Rodrigo Elías-Zambrano e Irene García-Medina
Calzadospuntocero. Análisis de una propuesta local de industria creativa emergente
Calzadospuntocero. Analysis of a local proposal for emerging creative industry
Juan-Ángel Conca-Pardo y José Rovira-Collado
Desarrollo de habilidades personales para la dirección en industrias creativas
Development of personal skills for leadership in creative industries
Ana Rosser-Limiñana, Raquel Suriá-Martínez y María-Carmen LópezSánchez
La repercusión del e-commerce y el efecto de los marketplaces. Tendencias futuras en el sector del juguete
The impact of e-commerce and the effect of the marketplaces: future trends in the toy sector
María Elena Estévez-Carmona
Videojuegos como industria creativa para la Educación Literaria: ¿enemigos o aliados?
Video games as a creative industry for Literary Education: enemies or allies?
Rocío Serna-Rodrigo y José Rovira-Collado
Industria televisiva en España. De lo local a lo global y viceversa: Tu cara me suena como estudio de caso
Television Industry in Spain. From Local to Global and Viceversa: Tu Cara Me Suena as a Case Study
Belén Puebla-Martínez, Silvia Magro-Vela y Rainer Rubira-García
Caracterización de la Televisión Regional en el sur de Chile. Una mirada a la Industria Creativa de Contenidos Audiovisuales
Characterization of the Regional Television in the South of Chile: A look at the Creative Industry of Audiovisual Contents
Manuel Rivera-Careaga
El crowdfunding en la narración gráfica en España: estudio de casos
Crowdfunding in the graphic narrative in Spain: case study
José Rovira-Collado y Juan Ángel Conca-Pardo
Las TIC como herramienta de divulgación científica en entornos del espacio de enseñanza no superior
ICT as a tool for scientific dissemination in environments of nonhigher education
Rocío Cifuentes-Albeza, Francisco-Julián Martínez-Cano y AlbaMaría Martínez-Sala
Palabras clave
Industrias creativas; Creative Industries